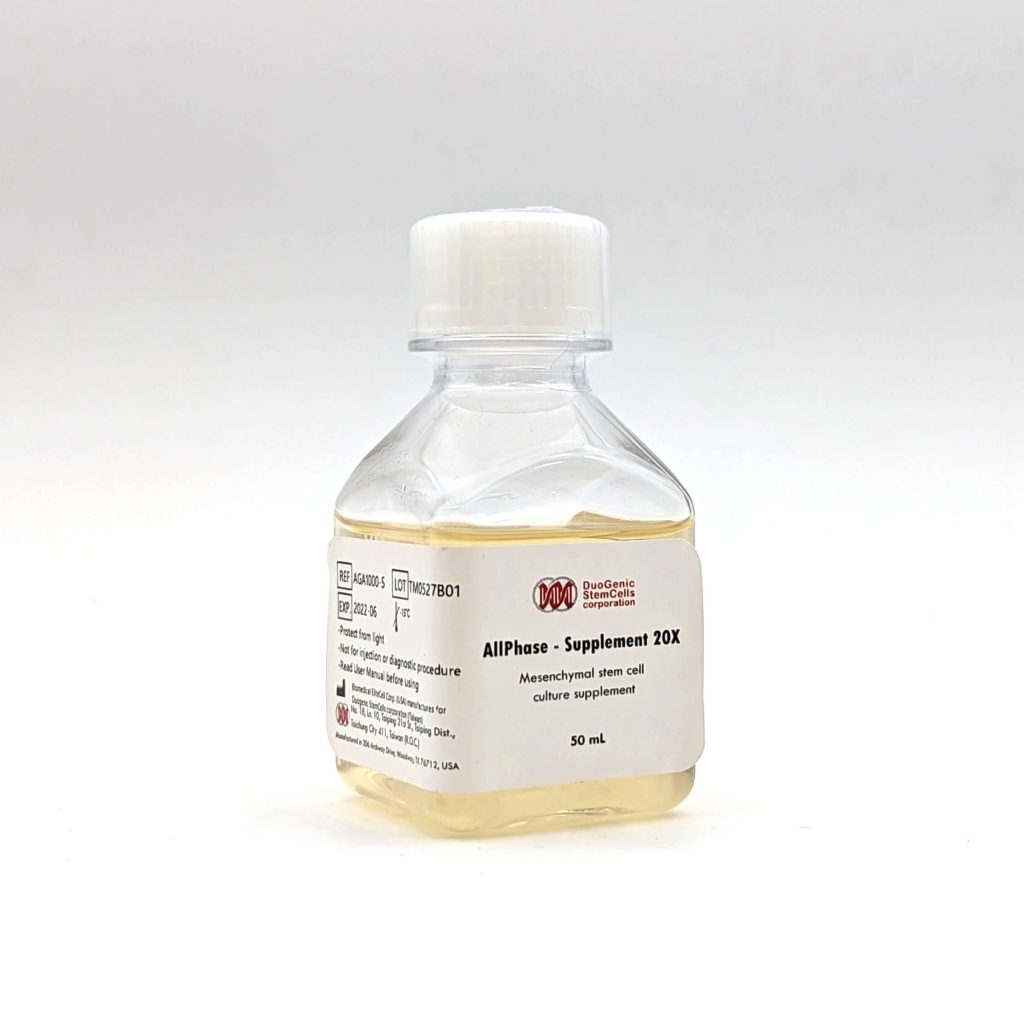 AllPhase is a xeno-free supplement for human mesenchymal stem cells (hMSCs) culture.
AllPhase has acquired Master File Number from US FDA and has been submitted and approved in Regulations of Special Medical Techniques.,

Storage : -15°C or below, protect from light.
Shelf Life : 24 months
Avoid freeze / thaw cycles
| | | | |
| --- | --- | --- | --- |
| Product Name | Catalog Number | Size | Grade |
| AllPhase – Supplement 20X | AGA 1000-S | 50mL | Clinical Grade |
| AllPhase – Supplement 50X | AML 500-S | 10mL | Research Use Only |
AllPhase is a clinical grade (approved in Regulations of Special Medical Techniques), xeno-free supplement designed for hMSC culture.
Manufactured under GMP and ISO 13485 certified factory, and comes with US FDA Master File Number.
Primary culture of hMSCs using AllPhase show superior efficiency.
Excellent expansion rate (doubling time under 30 hours) of either UC-MSC, ADSC or BM-MSC cultured using AllPhase was observed.
The ability of self-renewal and multi-lineage differentiation of MSCs remained for several passages.
Superior primary culture performance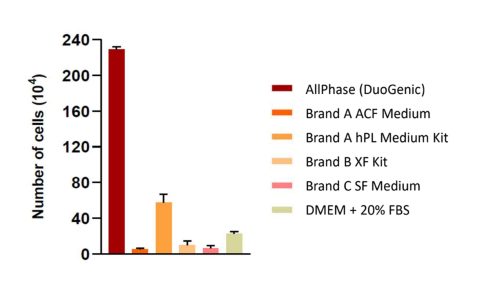 Total number of cells isolated from 6 cm sections of umbilical cord. The tissue sections were minced and left undisturbed for 18 days on two 100 mm TC treated or CellBind culture plates. Medium was replaced every 3 days. Data show the mean cell number per 100 mm culture plate on the 18th day. AllPhase demonstrates superior primary culture performance.
MSC morphology from P0 to P5
Using AllPhase to perform primary culture of human MSC. Normal morphology was observed, cells retain spindle shape and remain healthy from P0 to P5.
Immunophenotype of MSC by flow cytometry analysis
Flow cytometry analysis of human MSC cultured in AllPhase. Cells were positive for CD90, CD105, CD73 and CD44.
Trilineage Differentiation ability
After culturing using AllPhase, human MSC demonstrates the ability to differentiate into osteocyte, adipocyte and chondrocyte.
User manual and more information are available upon request.
info@duogenicsc.com
if you have any questions,
feel free to contact us.
We are glad to provide your further information.